I have only visited twice – once for this pre-wedding site visit (a year in advance of the wedding), and then to be onsite for the big day (and the few days before). But every time I go, it is glorious weather; classic, beautiful British summer, with bees buzzing, flowers blooming and blue skies overhead. It can't always be like that..but it always will be in my memory.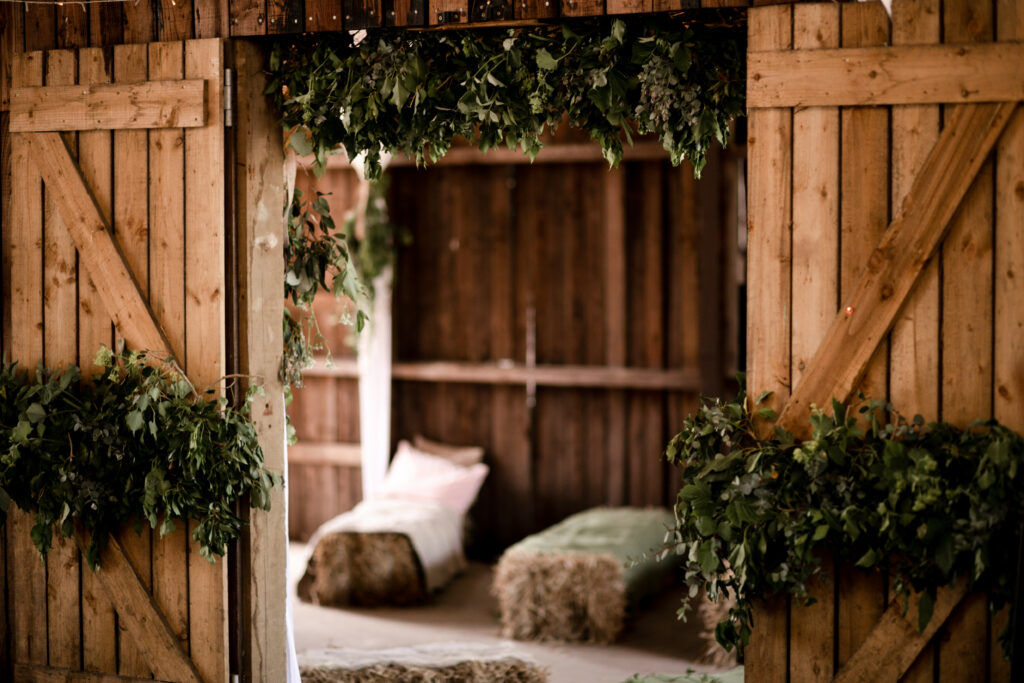 The Design
I had a big blank canvas to work with here, as T&K had shrunk their wedding from a pre-COVID 120 guests to the 30 guest limit. We still wanted the space to seem fully used and fully decorated – gracious and large, but not echoing and empty! We decided on hiring some soft furnishings from me to create comfort in the barn – including rugs, blankets and cushions. We also went heavy on the foliages, making sure that the venue could be heavily decorated but stay within budget.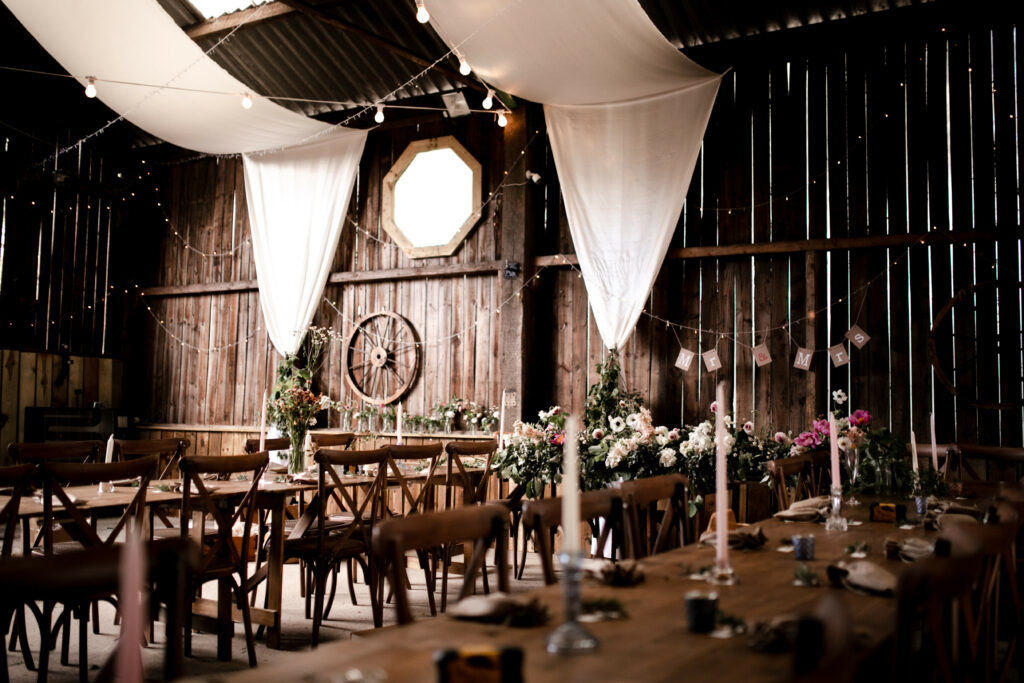 Pollendine's performed the full event design for this wedding. Instead of turning around the space, as we had planned, between wedding breakfast and the evening, we decided to leave both the dining area and the dance floor in situ throughout. This better filled and enriched the space. What is a huge venue became glorious, graceful, but not too big. We decided to bring white drapes right down to the ground to bring some light into the predominantly wooden venue, and then rely on natural light from the big open barn doors. As the evening progressed, candle light and fairylight took over.
Planning a Yorkshire wedding
Kamilla is so beautiful! In her plain dress, we chose beautiful British summer flowers – romantic, twirling, wild – to celebrate the glorious sunshine and the bucolic simplicity of their venue. With fragrant mint, David Austen roses and glorious peonies, her bouquet was highly scented and fresh – perfect for such a warm day.
Although Pollendine's is not a Yorkshire florist in terms of where we're based (South Cumbria), I was born and brought up in South Yorkshire and then lived in West Yorkshire for a decade, so Yorkshire is very close to my heart. We will always travel for events, if we can make it ecologically viable and not have a huge carbon footprint!
With family travelling over from Norway during COVID conditions, and ever-changing guidelines, the lead up to the wedding had been a little stressful to say the least – but you'd never think that, from how this gorgeous couple celebrated, and the relaxed, special, unique day we enjoyed.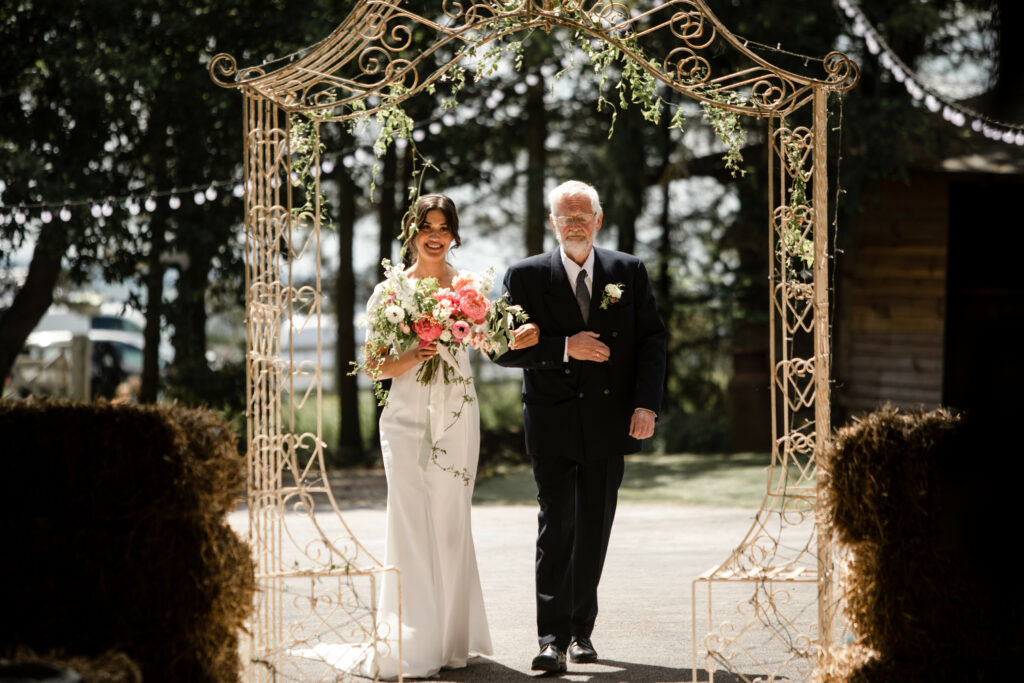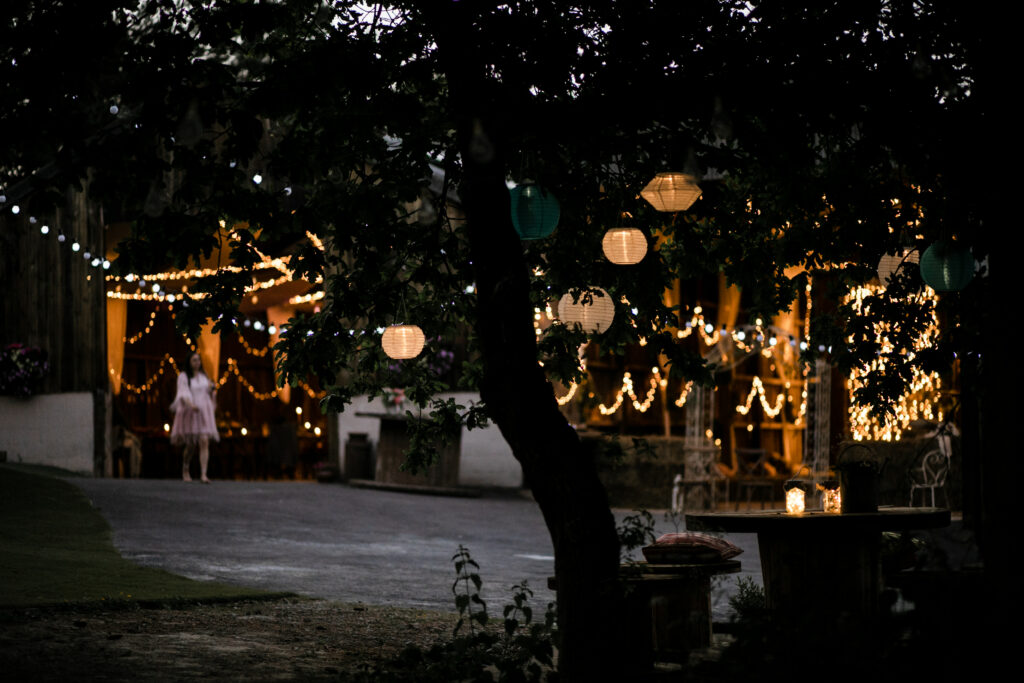 The Photographer
These incredible pictures were captured by Fiona, from anoif photography (click to see her work!). She was the most relaxed, gracious, and friendly photographer I've ever worked with – whilst remaining a consummate professional throughout. If you're getting married anywhere in Yorkshire I'd definitely recommend giving her a call!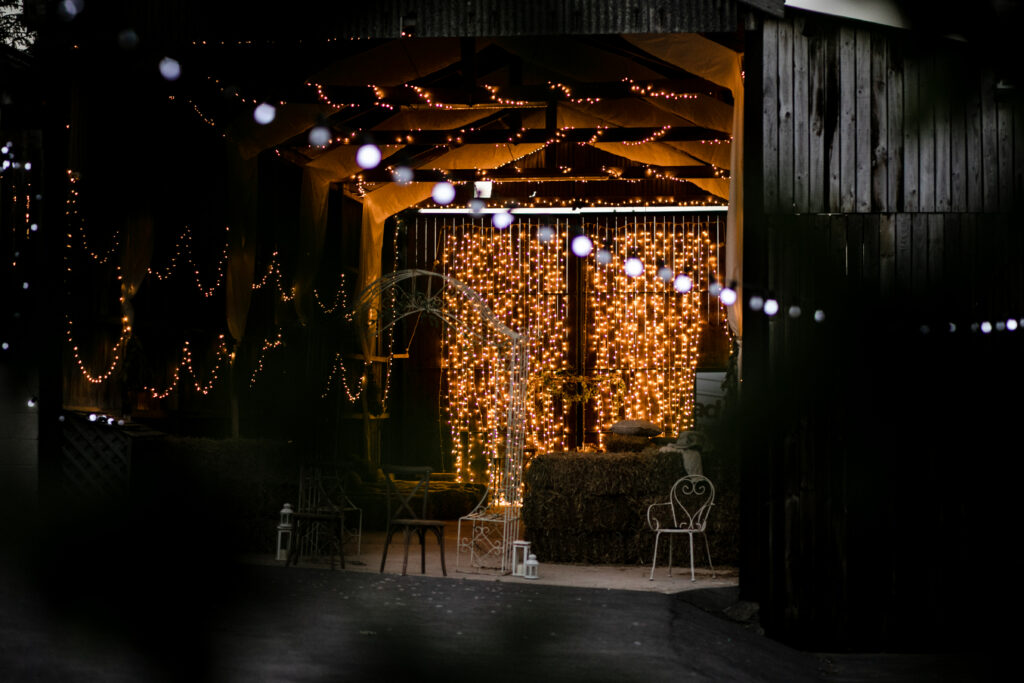 At Pollendine's, we create ethical floral events – from flowers to event design. That means we only work with British grown flowers. We also minimise our use of anything plastic and single-use, and focus on creating an event that is as good for the environment as it can be – without detracting anything from your special day!
If an eco-friendly wedding is what you have in mind, get in touch with Pollendine's today, via email or on instagram x