The inspiration for the business name Pollendine's comes from my mother's maiden name, Pollendine. That makes it personally significant for me, but the allusion to flowers and their pollen also suggests an essential connection to British nature and its ever-changing seasons – the buzzing of bumblebees in May hedgerows and the profound beauty we can find in both the wild British countryside and in formal, manicured gardens.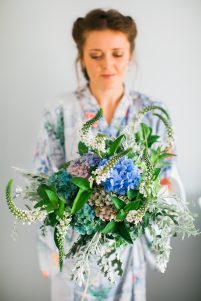 Pollendine's is about channelling the "where" and "when" of your environment. To me, event floristry should bring the outdoors in – if your birthday party is set in a marquee in late May, the marquee should be bedecked in the beautiful and virginal wild, white blooms of the May hedgerow! Orchid stems, however beautiful, will never connect the beauty of your occasion with where you are, at what time of year (unless of course your wedding is set somewhere orchids bloom naturally!) – and to me, lining up this where and when is what makes an occasion live on in people's memories!
Behind Pollendine's is me, Phoebe Ryan. I found my enthusiasm for floristry many years ago when I taught myself how to create wreaths for the Christmas period. Fed up with plastic tat, and even the wire-and-glitter-covered natural wreaths available commercially, I decided to learn how it could be done naturally, to bring the wonderful British countryside into the home at Christmas. To me, this is *real* Christmas decoration!
All-natural wedding floristry
Three years ago, my passion for floristry went a little further, when I decided to undertake the flower arrangement for my own wedding. I quickly realised that it was really important to me that 99% of our flowers were from the village I grew up in, and where the wedding ceremony would take place – the flowers expressed the beauty of this late September day (we were very lucky with the weather!) as nothing else could. I decided to grow, collect, and arrange the flowers myself (with a little helping hand from a green-fingered father and his greenhouse)!
This made me realise that, as well as an eye for arrangement and knowledge of (British) plants, to me, floristry is about a decision – an ethical, environmental, and aesthetic choice – to choose your medium wisely. Whilst many florists use blooms from around the world, imported across seas and skies, with no connection to the time of year or location they find themselves arranged in, Pollendine's does the opposite. The flowers and foliage which surround us, even in our most sparse and bare-seeming months, can be exceptionally beautiful, and truly tell the story of where you are and when. They also minimise waste, long travel/air miles and our carbon footprint.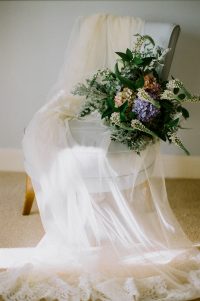 Pollendine's shuns wastefulness. Never would I cut a handful of delphiniums to choose only one, and similarly, never would I forage wild flowers, or even foliage, from the same area, or same plant – I always like to carry the mantra that it shouldn't look like I've been there. Pollendine's prioritises a modern connection with nature, foregrounding blooms, foliage and wildflowers or 'weeds' equally. To me there is a time and a place for the beauty in everything – sometimes a simple sprig of lambs ear will outshine any blousy peony.
Pollendine's also tries to use artificial mediums like wire and oasis very sparingly indeed – our wreaths, for example, are 100% natural, with hand-woven wooden bases and no wire used. Some ingredients are simply not good for us, or the world (did you know that oasis is made from a non-biodegradable plastic with some ingredients thought to be carcinogenic? not idea), and it's so easy for all of this stuff to get bunged in a landfill as soon as your occasion is over. I try to collect and recycle containers to suit the look of your occasion, so that you can enjoy arranged cut flowers, standing in water (which last for longer and leave almost no waste at all)!
The growth of Pollendine's
Pollendine's was predominantly set up to help other people enjoy floristry for their event which showcases, and prioritises, British nature.
After growing almost 99% of our own blooms and foliage for my wedding two years ago, I became passionate about the link between your space, your time and your event. Flowers grown and gathered from your surroundings are not only the eco-friendly choice, compared to flying in an exotic orchid from across the seas – they also speak much more profoundly of the environment your occasion is set in.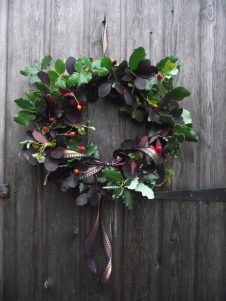 As an events florist, Pollendine's is no permanent "florists" – I cater for weddings and special occasions (birthdays, christenings, parties, Christmas, for example), dressing spaces to fit the place they inhabit, using as much grown, found and foraged material as possible. I minimise an event's environmental impact, whilst connecting you uniquely to the season and the space surrounding your occasion. Our flowers are grown or foraged by me wherever possible, and where this occasionally isn't possible, they are British-sourced.
Whether you are planning for an upcoming wedding, a 50th birthday party or simply want your home dressed for Christmas or a special dinner party, get in touch. I am always happy to discuss your needs and your requirements.