I've been selling Christmas wreaths for quite a few years now. Because I do them completely naturally (no wire, not even in the base), people often say, "I wouldn't know how to make a Christmas wreath that way".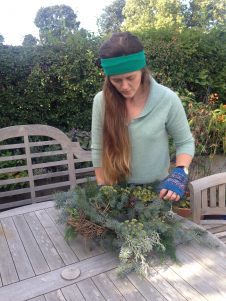 Well, this year I am running wreath courses for those who want to find out! Find out all the info by clicking here, but the basic information is that the course:
-costs £69, running 10.30-4pm
-Dates include Saturday 26th Nov, Friday 2nd Dec, Sat 17th Dec
-teaches you to weave a reusable wreath base to take home
-feeds you a yummy homemade lunch
-teaches you to dress a wreath base to take home with you, ready for your front door
-will take place in Holymoorside, Chesterfield
-PLUS lots of bonuses on using natural foliage to make swags and garlands and festive decorations
But, for those of you perhaps wanting to embark on your own, here's some guidance on how to make a Christmas wreath.
How to make a Christmas Wreath:
I've described the basics of weaving a reusable base in this post, and all you need is a pair of secateurs and access to some pliable, quick-growing wood (I love to use young holly) (ONLY ever pick sustainably, and from wood you are legally allowed to access). Wind strips of holly sapling together, as described in the post, and then interlace to create a circl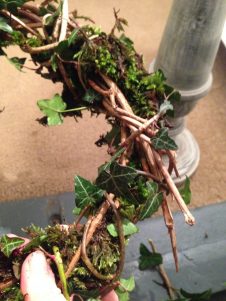 e (whether you want a large or small base is up to you, but remember that, once dressed, your wreath will be 3-5 inches bigger).
Next, find a sustainable source of moss. This is the perfect natural equivalent of oasis. Soak the moss, and then stuff it into holes in your wreath frame (your fingers will get chilly, sorry!)
How to choose foliage?
If you are dressing a wreath for an outside door, the right foliage choices can ensure a wreath that looks great for at least 3 weeks, if not more. If, however, you're putting your wreath somewhere hot, it's life will be shorter.
TOP TIP:
make sure the spritz your wreath with water to keep any moss in the base moist. This will provide some moisture and keep it from drying out too soon. Also, even if you are displaying your wreath inside, a few hours outside in the cool and damp will do it the world of good. Consider leaving it outside the backdoor when you go to bed at night – it'll last twice as long out of your centrally-heated house overnight.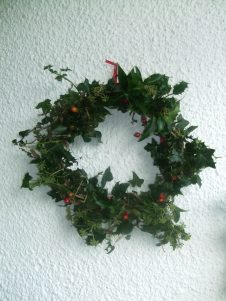 The longest lasting foliage are the Christmas staples:
holly, ivy and pine, I say pine, broadly, because most coniferous, pine-needle based trees will give your wreath a good shelf life. Ivy with blossom (those cute little bobbles) looks great, but will wilt much quicker than simple ivy foliage.
Holly berries last well, and dried flowers such as hydrangeas or seed heads such as nigella, poppyheads and alliums from earlier in the year, or pine cones (preferably attached to their branches, for easy addition to your wreath) are the perfect long-lasting dressing for your wreath. Rosehips are another great addition, for a pop of colour.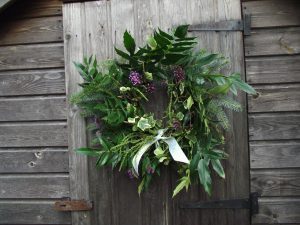 The thistley, ice-blue of Eryngium (or sea holly) are gorgeous as a complement to a blue-green or blue-grey fir, and the berries and (very spikey!) leaves of mahonia also offer a long lasting, but very modern, twist.
However, why not opt for something more modern, with a slightly shorter lifespan?
If you allow that your wreath will not last weeks upon weeks, but make it just a few days before Christmas, your options are much broader. Use hedera with its blossoms (ivy with those cute bobbles), and why not include some herbs? Rosemary, thyme, sage and lavender look particularly great. They will dry fine so could be included in your long-lasting wreath – though they certainly will look 'dried', and that may not be the look you're after in your fresh wreath.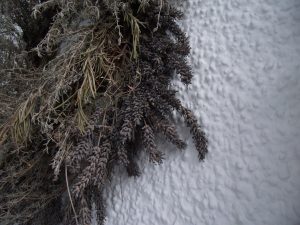 Adding fresh cut flowers to your wreath will likely make it last a shorter time. Consider using dried cut flowers (rose heads dry well, as do brightly coloured wintery dahlias. Otherwise, be aware that your flowers may not last long. Before cutting something, have a quick Google – some plants simply will not last out of water, and will droop right away. These are worth avoiding if you don't want a sad wreath!
Winter flowers such as the jolly little purple flowerheads of Verbena,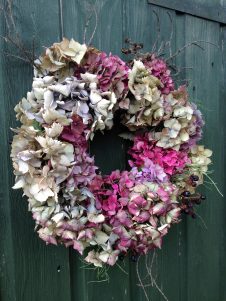 cut roses and bobbly ivy flowers, plus some winter berries such as haws and snowberries, will last reasonably well. Similarly will heather, dogwood and hebe, to give an injection of colour to your foliage.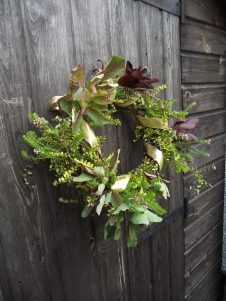 So why not experiment with making your wreath this year? If you can come along to one of our Pollendine's day courses, get in touch via email at phoebe@pollendines.com or 07568 317689 to book a place, otherwise, use your creativity and enthusiasm to create something beautiful this festive period.