Want to learn how to make your own Christmas wreath? Why not book into one of the Pollendine's DIY Wreath Workshops this Winter?
Winter is here, yet again!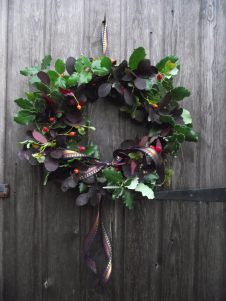 (Well, okay, it isn't actually, but those Autumnal days of chill are just as festive, to me, as the full-blown snows of December.)
For me, the festive season is a time of year which can easily become fraught – running about on errands, finalising all those Christmas details and buying gifts. Indulging in some quiet time with nature, making a wreath outside in the beautiful chill of a Winter's day, reminds me what is important about Christmas. To me, it represents the fleeting beauty and sparseness of the season (and the rewarding warmth when you go inside!), and the value of giving yourtime. It is all too easy for us to fill our shopping baskets with mindless gifts, but what could be more special, and individual, than the time you have devoted to creating something with your own hands? It is the ultimate gift to another, or indeed, to yourself and your family.
DIY Wreath Workshops – learn to make your own Christmas wreath on a Pollendine's wreath making workshop, and take it away to bedeck your door! Perfect as a treat for yourself, or as a gift for a loved one.
Pollendine's DIY Wreath WorkshopS
This November and December, I'll be running wreath making workshops! Having sold wreaths for many years now, I constantly get asked, "but how do you make them? Are the bases really biodegradable, and can I really use them again?" Of course they are, and of course you can! Why not come to a wreath workshop and learn, getting a beautiful wreath for your door and also learning all the tools so you can make one yourself for the future?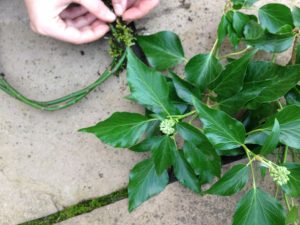 Learn how to make a completely natural, biodegradable, stylish wreath for your home at my wreath workshop, which will take place in greenhouses and outdoor spaces of my garden, in the Derbyshire countryside.
Get in touch via telephone or email now to book a place, for yourself or a friend!
…………07568 317689 // phoebe@pollendines.com………….
Schedule:
Pollendine's wreath workshop day courses include:
– Arrive: Coffee and cake whilst you meet the other participants
– Morning: Learn how to make a reusable, biodegradable, all-natural wreath base, and get ideas to take home with you to complete another wreath project
– Lunch: Eat with the other participants inside, getting inspiration on other all-natural Christmas makes, get out of the chill and fill your belly with something warm and satisfying!
– Afternoon: Learn to dress a pre-made wreath base, ending up with your own beautiful wreath to take away at the end of the day.
Course dates*:
Saturday 26th November
Friday 2nd December
Saturday 17th December
* More dates may be included at a later date depending on levels of interest. Please get in touch for details if these dates aren't suitable. Please be aware that all workshops require a minimum of two and maximum of nine participants to run.
Location:
Holymoorside, near Chesterfield, Derbyshire. There are rail links to nearby Chesterfield and easy taxi access to the house, and the exact location will be specified upon booking.
Information:
The day's wreath workshop cost is £69.
This cost includes learning how to create your own unique Christmas wreath on a pre-woven base, with all the materials you will need, as well as learning how to weave a base itself and taking this extra base home with you for another project.
Lunch is included in the cost. creation of  an extra wreath base, lunch, and all the materials needed to create your own completed natural Christmas wreath. The sum must be paid in full before the day. The day will run from 10.30am-4pm.
Please notify us of any dietary requirements upon booking so that they can be accommodated.
Contact Phoebe on 07568 317689 or phoebe@pollendines.com for more information, to book your place at a Pollendine's DIY wreath workshop now!