We are taking a 'working holiday' in Norway this September and October. And it is completely glorious.The Autumn sunshine is gleaming off the sea as I sit here writing this, in our living room 50 metres above the ever-moving waves. And the island is filled with Scandi greenery; Norwegian pine, firs and all sorts of conifers everywhere, as well as bushes brimming with rosehips and branches groaning under the weight of Autumn's final apples.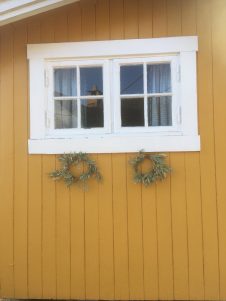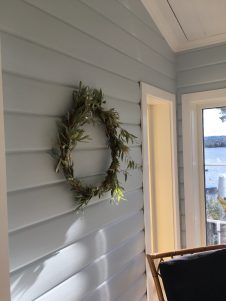 It has been likes those wonderful days of Autumn I love in the UK – when it is searingly blue overhead, with the crisp taste of imminent frost in the early morning air.
We're staying on Brønnøya, an amazing, pedestrian-only island (come-nature reserve!) only 45 minutes from the bustle of central Oslo. It's the perfect combination of peaceful immersion in nature and city life.
Making Willow Wreaths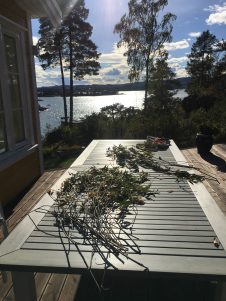 Wallowing in those Autumn vibes, I've been making a few willow wreaths from the fallen branches littering the paths after the high winds (we had the tail end of those British 'hurricanes', though the weather was beautifully sunny whilst the gales battered!
I usually don't use willow, either – I prefer holly usually, just due to it's festive feel and how common it is in the wild. But since these branches were fallen, I thought I'd experiment. Willow is lovely to weave, it must be said.
I left those silvered leaves on. I couldn't help it. I know they won't last forever, but they seemed more Scandi that way!
I've even had a dip in the fjord, 2 days in a row! Chilly, but wonderful!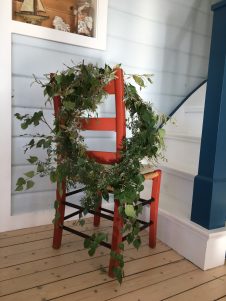 I feel like Autumn is flying by, and when we return it'll be Hallowe'en…and then I'll be rushing through Winter with my fingers stiff from wreath making and my nose cold from many days and evening spent outside, foraging and weaving wreaths! I love Autumn and Winter, in the run-up to Christmas, but I always feel like the time just whizzes past me too quickly…
Do you have any Autumn plans? Are you starting to think about Winter, too?
Remember to check out my wreath workshops this December and get a booking in – we're doing three midweek mornings at the wonderful Cumbrian venue Yew Tree Barn:
Current Wreath WORKSHOP dates:
6th December, 10.30-13.00
11th December, 10.30-13.00
13th December, 10.30-13.00
The workshop costs £37.50, including refreshment and all wreath materials. You'll go home with your own decorated wreath, which is built on a reusable, woven wreath base.
For more information and for booking enquiries, get in touch via email: phoebe@pollendines.com
or phone: 07568 317689
xxx