Not many people would think weeds are aspirational as your wedding flowers, would they?! But weeds are just wildflowers, and we think wildflower wedding bouquets are particularly special.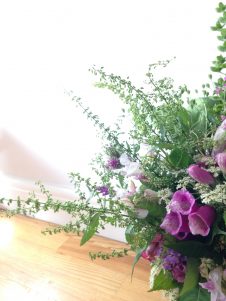 Our British wildflowers (it's only a weed if it's in the wrong place, as my dad used to say) are a truly ephemeral and local vision of the season we're in.
Wildflower Wedding BouquetS – delicate wildflowers or worthless weeds?
Wildflower wedding bouquets are a unique statement of your location, and the season (as well as an echo of the type of weather we've had – flowers will be early or late if the weather has been unseasonable, and may be more rampant and willowy after lots of rain or dense after a hot spell…)
Pollendine's often uses wildflowers in our designs to illustrate the beauty of the British season your event is held in. A couple of weeks ago I decided to go out of my way to create a beautiful bouquet from British blooms alone – specifically, wayside weeds.
Are all flowers bouquet-worthy?
We think beauty is in the eye of the beholder. A rose is traditionally attractive, but it is also used in almost ever wedding floral display ever. There are many undervalued and under-used flowers, across British gardens and the British countryside, which can inject something unique to your floral design.
None of the flowers in this bouquet are garden flowers, or have been specifically grown for our floral designs – they are all plants from our hedgerows and roadsides. Some are in fact pernicious weeds (the beautiful, but very invasive, Himalayan Balsam being the prime example!), some are useful as traditional remedies (have you ever rubbed a dock leaf on a nettle sting? Those reaching fronds are dock seedheads!) and some are 'weeds' we have welcomed into our gardens (the quintessentially British summer plant, foxglove).
I collected all of the below, sustainably, from hedgerows and roadsides in early July, within 30 minutes – and look at the result!
We are somehow focussed on imported, exotic blooms in the UK, especially for weddings and big events. But we at Pollendine's believe that an (admittedly beautiful) orchid will never fit as harmoniously into your July event than a delicate foxglove will.
When choosing your florist, whether for a wedding or for another event, you should choose them because their design skills fit the look you desire. Maybe you should also think about the impact your wedding will have – choosing Pollendine's limits any negative impact on our beautiful environment, caused through airmiles (almost all UK florists use flowers flown from Holland and beyond) and nasty ingredients such as floral foam, often called oasis (research shows this contains carcinogenic, toxic materials).
If you want your wedding to have as positive an effect on the environment as it does on you, your partner and your guests, get in touch with Pollendine's on phoebe@pollendines.com to have a chat, or take a glance at our Instagram page