For me, christenings are a rite of passage – whether you're religious or not. So I could call these Christening Flowers – but, really, whatever you call it, religious or nay, a Christening, Naming Ceremony or just plain party is a great excuse to get everyone you love together to celebrate a new little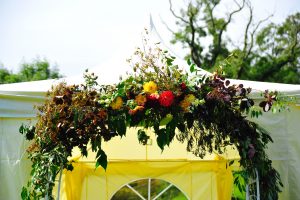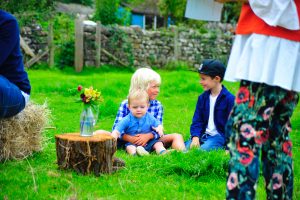 We got married in September, several years ago now! And of course Pollendine's did the flowers for that. Even though this Name Day Celebration was at the other end of the month (we got married on 26th September), the season reminded me so much of all the floral preparation that I did. These two events look so different – with the exuberant, eye-popping, clashing dahlias taking centre-stage here, where I prioritised the blues of hydrangeas for my wedding flowers. It just reminds you of the diversity of British blooms!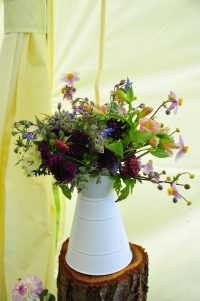 Going all-British definitely doesn't have to be limiting, in any way.
Christening Flowers – or Naming Day, or just Baby Party!
Whatever you call it, it is a great event when you can celebrate the birth of a child.
Christening flowers can be very formal – in a church, they can feel almost like a wedding. Each type of christening resonates with the parents, but just because you choose something less formal doesn't mean it is less important, or less celebratory.
This was no ordinary Christening. This was titled "The Dilly Do" – an informal party, on a summer's day, to celebrate everything about little Dylan. There was no formal, religious element – just a party for friends and family in a marquee in a field, with a fresh selection of Indian food and a mint-decorated croque em bouche!
Flower Recipe for Dylan's Christening Do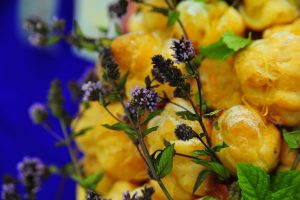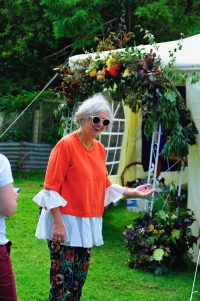 With our own wonderful, bright and bolshy dahlias in bloom, as well as alstroemeria and those rich purple scabious from my wholesale supplier down in Cornwall, these Christening flowers were all about informality, fun, and celebration.
I also gathered plenty of cottage garden-style blooms like Japanese anemone and borage to add to the feeling of informality, the brief being to look like a summer garden overflowing with joyful, bright blooms.
Arches can work at an entrance to a marquee, to lead the way down a path, or as an arbour under which to say more formal vows. This one was kept unruly and wild, a pop of colour to herald summer in this green, green field. We kept a little lightness by keeping it bare to the frame up the sides of the structure.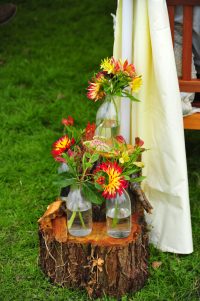 If you're looking for Christening flowers, whether you're in a church, venue, outside or in a more informal space, local blooms are the perfect way to inject personality and a sense of celebration.
x